What's new for Azure Stack HCI at Microsoft Ignite 2022
From our partner DataON comes the latest news for Azure Stack HCI in this recap blog about Microsoft Ignite 2022.
Today at Microsoft Ignite 2022, we're announcing new ways that Azure Arc and Azure Stack HCI can help you operate hybrid seamlessly, including a new hybrid benefit for Software Assurance customers, Public Preview 2 of Azure Arc-enabled VM management, the general availability of version 22H2 packed with improvements, big changes for hybrid Azure Kubernetes Service, and an exciting surprise (did somebody say hardware?).
New benefit for Software Assurance customers
Today we're introducing a new Azure hybrid benefit for Windows Server customers.
We heard your feedback that you want to adopt Azure Stack HCI, but you're already locked into a Software Assurance contract for Windows Server Datacenter. That's why, effective today, Enterprise Agreement customers with Software Assurance can exchange their existing licensed cores of Windows Server Datacenter to get Azure Stack HCI at no additional cost. This includes the right to run unlimited Azure Kubernetes Service and unlimited Windows Server guest workloads on the Azure Stack HCI cluster! See the licensing terms for full details. This new benefit dramatically reduces the cost of modernizing your Hyper-V environment to Azure Stack HCI.
Activate the benefit directly from the Azure Portal on your cluster's Configuration page: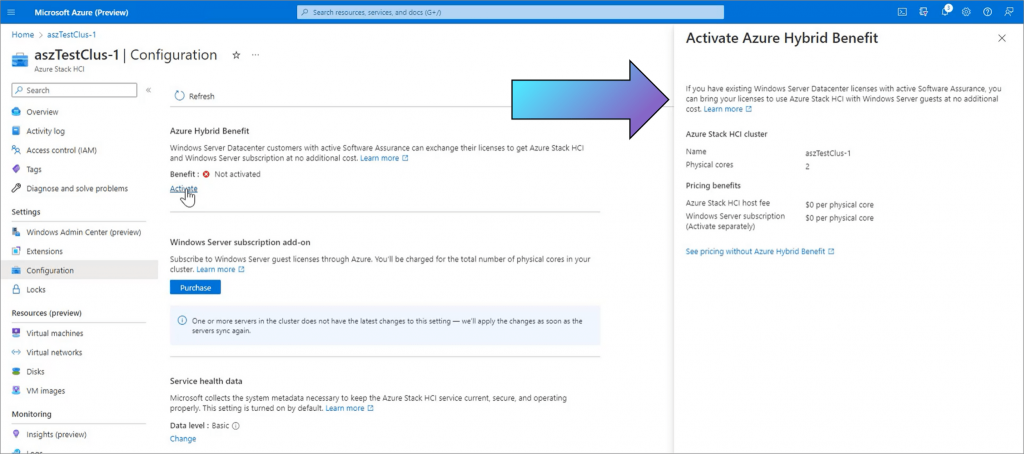 Azure Arc-enabled VM management: Public Preview 2
The cloud changed how we manage virtual machines. With Azure Stack HCI and Azure Arc, you can apply cloud management patterns in your on-premises environment too. Earlier this year, we launched the public preview of Azure Arc-enabled VM management, which lets you deploy VMs onto Azure Stack HCI through ARM, the Azure CLI, and the Azure Portal.
First, in addition to using your own custom images, you can now access images from the Azure Marketplace. Using a Marketplace image is often the fastest way to get up and running. In just a few clicks, you can conveniently deploy the latest fully patched images from Microsoft, including Windows Server 2022 Azure Edition with hot patching and Windows 11 Enterprise multi-session for Azure Virtual Desktop. Later, images from third-party publishers will be available too. The Marketplace functionality is built natively into Azure Arc (no new agents needed) and is designed to be conscious of your network bandwidth: images are optimized to minimize file size, and you only need to download them once to create as many VMs as you like.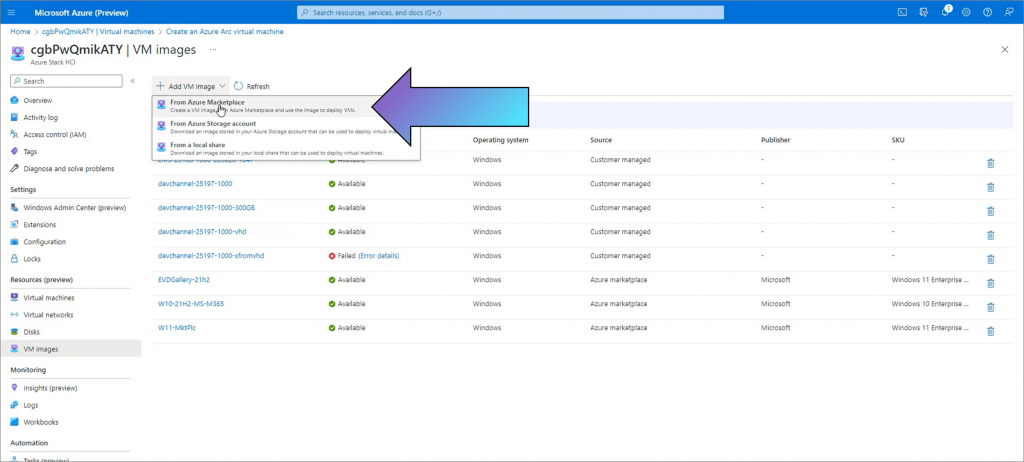 Another top-requested feature in Public Preview 2 is guest management including VM extensions. When you deploy a new VM through Azure Arc, the guest OS is now automatically Arc-enabled. This means you can use VM extensions like Domain Join to configure the operating system, or Custom Script to deploy and configure your applications. Later, more extensions will be available. To help you make the most of these new features, we've added a new "Get started" tab on the cluster overview page in the Azure Portal with usage samples and instructions. For example, there's a nifty ARM template that deploys N x Azure Virtual Desktop session host VMs and automatically joins them to your AVD session host pool. Try it out for yourself!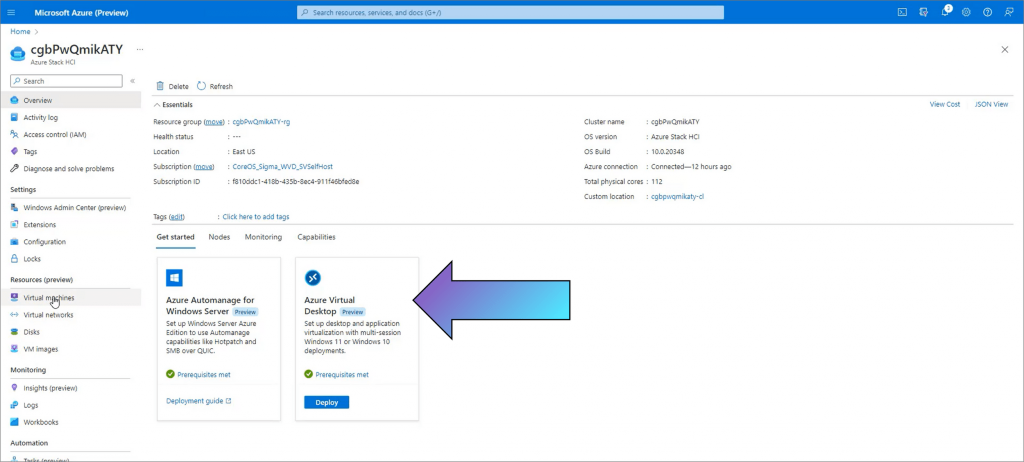 Thank you to everyone who has participated in the Arc-enabled VM management preview so far! Public Preview 2 is rolling out in the next few days, and the team is already hard at work on Public Preview 3. Please help us shape the future of this feature by continuing to share your feedback and feature requests.
Learn more about Azure Arc-enabled VM management
Learn how you can deploy Windows Server Azure Edition (preview) with hot-patching on-premises
Learn how Azure Virtual Desktop (preview) leverages these latest capabilities
22H2 feature update
Today we're announcing the general availability of the latest annual feature update for the Azure Stack HCI hypervisor.
Known as "version 22H2" or the "22H2 feature update", it's available now and ready for production use.
This update brings quality-of-life improvements all throughout the product. With version 22H2, Network ATC can automatically assign IP addresses to your intra-cluster storage networks, and automatically name your cluster networks based on their intended use. It can also manage live migration settings for you, like selecting the best network, best transport, and best bandwidth allocation. Storage management is more flexible: you can modify existing storage volumes to increase their resiliency (e.g., from two-way to three-way mirror) or convert in-place from fixed to thin provisioning. Storage replication between sites in a stretch cluster is faster with new optional compression. Hyper-V live migration is more reliable for switchless 2-node and 3-node clusters. And there's new tag-based network segmentation, enabling you to secure virtualized workloads against lateral threats based on custom tags of your choice. No matter how you use Azure Stack HCI, there's something for you in the 22H2 feature update.
All existing Azure Stack HCI clusters are eligible to receive 22H2 as a free over-the-air update. You can apply the update non-disruptively with cluster-aware updating, just like a monthly security patch. In your preferred management tool, simply "check for updates". Microsoft recommends version 22H2 for all new Azure Stack HCI deployments. The installation media will be available on Azure.com/HCI in the next few days.
Management tools are being refreshed to support the new update. You can use Windows Admin Center to manage version 22H2 right now, and in mid-November, the next Windows Admin Center release will bring enhancements to light up new features, like modifiable volume settings, an improved cluster settings design, and more. We are also committed to maintaining compatibility with System Center Virtual Machine Manager and Operations Manager. In mid-November, the first Update Rollup (UR1) for System Center 2022 will add official support for Azure Stack HCI, version 22H2.
Learn more about the 22H2 feature update
Watch demos and read the blog about what's new in Network ATC
(Note: now that 22H2 is generally available, customers who wish to remain in the Preview channel and see what's next for Azure Stack HCI should update to the recently published dev build of our next planned feature update, version 23H2. Updating promptly to 23H2 will ensure that your non-production cluster doesn't get billed. See this blog post for details.)
Hybrid Azure Kubernetes Service
Many organizations have a mix of older virtualized applications and newer container-based applications. With the Azure Kubernetes Service on Azure Stack HCI, you can deploy and manage containerized apps side-by-side with your VMs on the same physical server or cluster. In the year since its general availability launch, AKS has quickly become an essential part of most Azure Stack HCI success stories.
The September 2022 update for Azure Kubernetes Service on Azure Stack HCI is available now and brings some significant enhancements. The Linux container base image has been updated to Mariner 2.0, which is under half the size of Mariner 1.0. It's more secure, upgrades faster, and contains nearly 3,000 added or updated packages. With the September update, software-defined networking (SDN) integration is generally available and ready for production use. The procedure for attaching GPUs to containers has been simplified. And based on your feedback, you can now use any account in the system Administrators group to manage AKS.
Today we're also announcing the public preview of provisioning hybrid AKS clusters directly from Azure. Using your AAD identity, you can provision whole new Kubernetes clusters into your on-premises environment through the Arc Resource Bridge, very similar to Arc-enabled VM management. This is an important step toward a simple, consistent, end-to-end application provisioning experience that spans the cloud and the edge. In addition to Portal GUI consistency, hybrid AKS provides a more consistent configuration management capability through GitOps. GitOps uses Flux, a popular open-source tool set that provides support for common file sources like Git and Helm repositories as well as template types like YAML and Kustomize.
Learn more about what's new for AKS on Azure Stack HCI
One more thing… hardware!
We were too excited to keep this secret any longer.
We frequently hear from Azure customers who are extending their footprint to the edge that they expect business model consistency between the cloud and edge: an OPEX payment model and the ability to use their Azure commitments to get the full solution, including hardware, from Microsoft. That's why, in 2023, we'll begin offering an Azure Stack HCI integrated system based on hardware that's designed, shipped, and supported by Microsoft.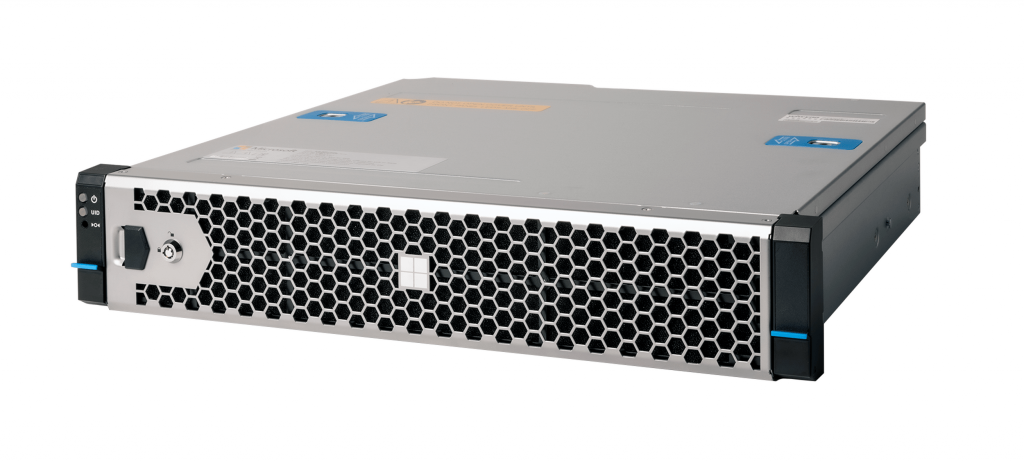 The solution, called the "Pro 2", has a 2U half-depth form factor that's ideal for deployment outside the datacenter, in locations like retail, manufacturing and healthcare. It's compact enough to easily mount on a wall or shelf. The hardware design is tamper-resistant, including an intrusion detection switch. And it's quiet enough for an office environment, generating less than 60 dBA of acoustical noise.
The Pro 2 will be available in several configurations, with specs tailored to edge use cases and the option for up to two NVIDIA A2 GPUs. You'll be able to order it directly from the Azure Portal and it'll ship with Azure Stack HCI pre-installed. And hardware management will be integrated directly into the existing cluster management tools, including a new Windows Admin Center extension that's under development now.
Cosmos' blog originally appeared on Microsoft.com.